To accommodate different medical specialists' needs of improving their practical skills, we are pleased to present one of the most innovative Polish training centres.
POZNAN LAB
POZNAN LAB is situated in Przezmierowo near Poznan at ul. Leśna 42a. The proximity of the west ring road of Poznan ensures excellent access to the Wolnosci motorway and the Poznan Lawica Airport.
380775578_822544006395275_8780053322918564446_n
387124210_831482355501440_1972936339177611885_n
121211633_2155525054591248_7567190404953650207_n
189521689_2363891897087895_6707518595346782422_n
387107196_831482268834782_4033654837590778850_n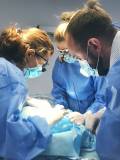 Our training facilities provide state-of-the-art workshop rooms that are dedicated for training on unfixed human cadavers. Together with the modern medical equipment, our facilities provide surgical training environment that mimics perfectly the operating room. You are also welcome to use our multimedia conference rooms with unparalleled catering service.
News
Organizowane przez nas kursy zyskują tym samym większa rangę, a ich uczestnicy otrzymują punkty edukacyjne. Cieszymy się ogromnie i dołożymy wszelkich...
Read More
Training Courses
We invite you to participate in hands-on cadaver training courses and workshops on in vivo models.